Custom Treatments in Round Rock, TX
The need for custom treatments for both commercial and residential spaces has become increasingly popular over time, and there are numerous benefits you can get from custom treatments.
The custom treatments Eastcreek Designs, L.L.C. offers are categorized into commercial and residential designs. Some design considerations that we can accommodate for our clients include:
Energy-efficient designs
Healthy designs
Child-friendly designs
Healthy designs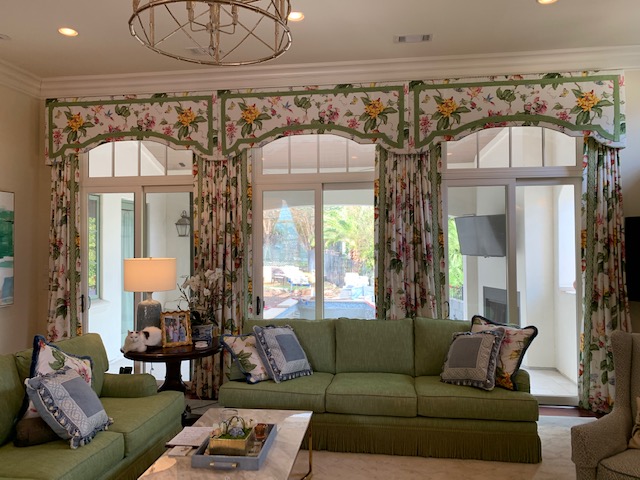 Residential Treatments
We aim to give you luxurious and dynamic designs for residential window treatments to ensure your home is up to date. Our team will work with you to make sure that the treatments that are selected will best complement your home.
Drapery
Custom treatments are available in over ten distinct styles, with over a thousand designer fabrics to choose from. You can have these drapes customized to any height and width to fit the different sizes of windows in your home. Motorized options are also available to choose from to give your home that luxurious look you desire.
Traditional Design
The traditional design of treatments stands out from the most modern designs. It is easily identifiable by its unique components, as evident in most Texas homes.
The outstanding features of traditional include elegantly hanging draperies, earthy-toned hardware, and detailed fabrics.
This design style also typically has decorative valances to act as embellishment layers for a more luxurious look.
Contemporary Design
Contemporary design is similar to modern design because of its focus on simplicity in overall design. The significant difference is its dynamic nature, unlike that of the modern design aesthetic, which can be more time specific. It incorporates clean lines, natural materials, and neutral colors.
If you want a simple but yet elegant finish, contemporary design will generally be your best choice. However, ensure to choose light colors for your wood finishes, natural colors, and white or grey paints. With such a selection in contemporary design, treatments blend in well. Some of the options you have for contemporary designs include contemporary drapes, blinds, and shades.
Commercial Treatments
Our commercial window treatments are optimized to increase comfort and save you money on energy costs for your business.
Commercial Windows
We offer installation services across a range of different commercial setups, such as universities and stadiums. Additionally, we can handle big and small projects alike.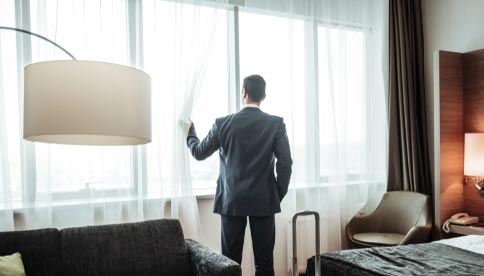 Office Treatments
There are three broad categories (blinds, shades, and draperies) of office treatments you can use for your office. Within these categories, there are numerous options for you to choose from.
Some of the factors that can help you during the selection include the safety code of the building, room comfort, design, ease of cleaning, and maintenance practices. Other factors of great importance are durability, energy efficiency, and sustainability.
Drapery
The drapery treatments you can use in your office are typically available as fully movable window coverages or decorative side panels. They can be installed with hooks or traversing C rings, depending upon your business's needs.
Some of the advantages you get from custom drapes can include highlighting your office's architecture, filtering natural and light temperature control during both summer and winter.

MechoShade
The MechoShade type of treatment has been popular with commercial buildings for over five decades now. This is largely due to the environment-friendly nature and versatility it offers. In most cases, it is used with motorized treatments and roller shades.
In addition to these motorized options, MechoShade treatments are available in manual and solar automated options.
Do you need the Help of a Professional Treatment Service?
While you strive to provide optimal working spaces to your staff, or a beautiful home design, we are your trusted partner in all your treatments needs. We offer both residential and commercial services in Round Rock, TX, with various designs ensuring you get nothing but the best outcomes.
Treatment FAQs
If you have any questions or want to learn more about our treatment services, do not hesitate to contact us at (940) 323-1111 or send us a message online. Our team of professionals is ready to answer all your concerns without paying a single dime. Below are some of the questions that most of our clients ask.
Do you offer consultations?
Yes! In the event you need to learn more or have any questions about treatments, we offer free consultation services. The free consultation is available for both commercial and residential services we offer our clients.
How will I know what style will work best in my space?
Most of our clients know what they like but aren't sure if it's the best fit for their spaces. But with our consultations, we discuss your preferences, needs, budget, and every concern to ensure you settle for a treatment that perfectly fits your specific spaces.
Do you have Child-Safe treatment options?
Yes! Our designs are child-friendly to ensure we provide a safe environment for the curiosity of your little ones. Therefore, all you need is to give us, are your requirements and leave the rest to our team.
Do you offer turnkey services for commercial installations?
Yes, we offer commercial turnkey services, and our skilled team can handle your project from the start of evaluation to its completion. We provide all the staff and resources you require for commercial installation without involving any subcontractors.