Custom Treatments in Marble Falls, TX
Are you looking in need of custom treatments in Marble Falls, TX? Eastcreek Designs, L.L.C. is the number one solution for treatments in Marble Falls. We are experienced in a wide range of treatments for residential and commercial clients. All our employees are certified, professionals. In addition, our treatment services are often less expensive than what you can get anywhere. Most importantly, we offer a free consultation with our esteemed customers to know precisely what they are getting.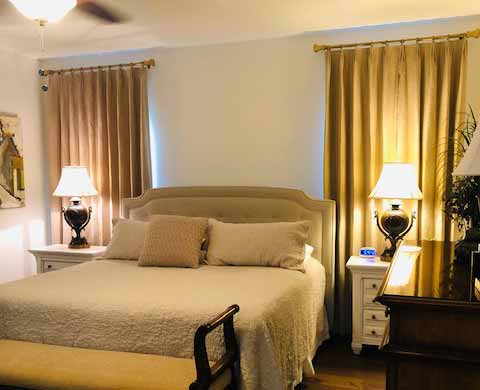 Residential Treatments
Eastcreek Designs, L.L.C. is the most trusted residential window treatments in Marble Falls, TX. We work with our customers in mind. We can help you achieve the look you desire, whether traditional or contemporary, in your space. Our free consultation is an avenue for us to understand your needs and listen to your preferences to work within your budget. Based on your needs, we plan and work closely with you to create an estimate within your budget. With our eco-friendly products, we ensure jobs are done safely and efficiently with certified personnel. Don't hesitate to contact Maripat Powers at (512) 784-8894 today.
Treatments
At Eastcreek Designs, L.L.C., we transform regular windows into something spectacular. Our stunning  treatments bring to life an otherwise uninspiring room. During our personalize consultation meeting, we strive to understand exactly what you want and create a design that fits your budget.
Drapery
We know that every client has their concerns; thus, we develop a custom treatments solution to meet your specific needs.
Hot summers are the norm in Marble Falls, TX, we have beautiful solutions to maximize energy efficiency in your home. We have also offer treatments that are inherently resistant to bacteria and are less likely to harbor dust or allergens.
Traditional Design
We are experienced in creating a traditional design style, usually using colorful draperies and layered treatments. Traditional style is all about the details: rich embellishments, such as fringes and trims, beautiful and unusual drapery hardware, and the little extras like lovely pillows for your sofa or bed.
A popular layering technique in our area is to start with shutters and add luxurious drapery panels to frame your Texas Hill Country view.
Contemporary Design
At Eastcreek Designs, we also have a passion for a more contemporary look and treatment. Contemporary design integrates simplicity and leverages clean lines, minimal clutter, modern accessories and a simpler palette of colors and textures.
Commercial Treatments
Why Eastcreek Designs, L.L.C. for your commercial treatments? We are a woman-owned company and are certified as a historically underutilized business. Our treatments facility is certified as a Historically Underutilized Business. Most importantly, we strive to give you the best price possible and all of our installations are performed by our certified professionals.
Call us today for in Marble Falls, TX.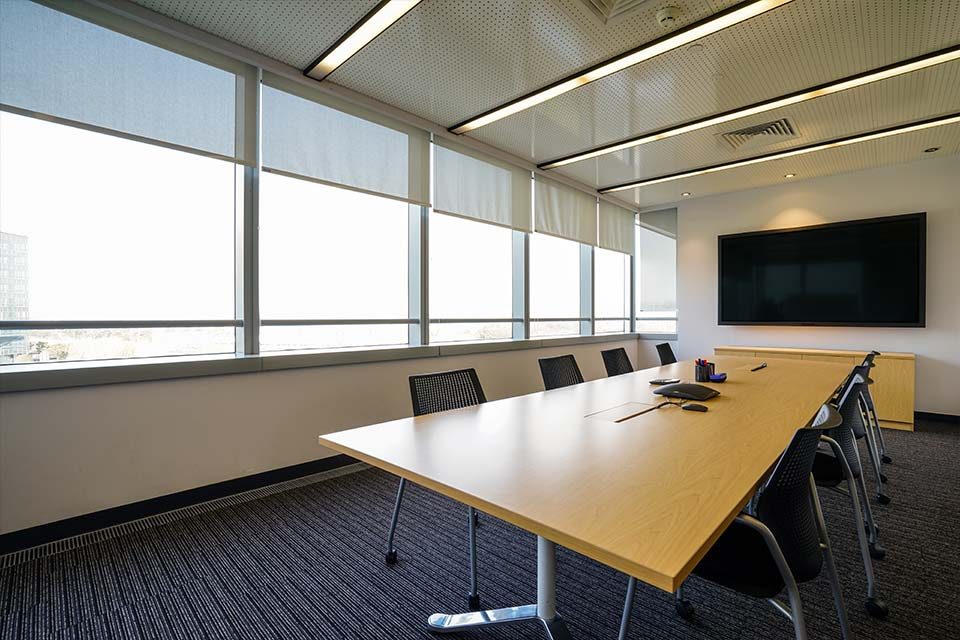 Commercial Treatments
Eastcreek Designs is a preferred Mecho shade provider in central Texas. Mecho shade is widely recognized as the leader in commercial window treatments.
Our team of certified professional installers has extensive experience in handling major projects for our clients.
Some of our clients include the University of Texas at Austin, Georgetown City Hall, Seton hospital system, and MD Anderson Cancer Center.
We work alongside the architect to ensure that there specifications are carried out on every project. Some of the general contractors we have worked with include: Harvey Cleary, Balfour Beatty, and Lott Brothers Construction.
The goal of our dedicate team at Eastcreek Designs is to manage the division 12 treatment scope for our contractor.
Office Treatments
Our office treatments are not only cool, but they can also help reduce energy costs. In addition, we offer the installation of light-sensitive systems. The system automatically responds to draw partially closed to block out a minimal amount of sunlight. This provides conveniences through automation of your office window.
Drapery
Our drapery comes with a considerable number of benefits. We not only focus on reducing energy costs but on increasing your comfort levels and provide conveniences through automation of your commercial treatments. We also offer motorized treatments and make them easily controllable by a wall switch, a remote control, or a smartphone. For safety purposes, we provide a cordless honeycomb shade to safeguard children. Their unique feature allows you to raise and lower the shade from the bottom of the top by a single clip. Surprisingly all these shades are light and inexpensive but good enough to install in a high-end location.

MechoShade
We offer the best pricing for our commercial customers. We prefer working with MechoShade products because they offer the highest-quality window-treatment products for commercial purposes. Besides offering the best warranties in the industry, they are the most eco-friendly products available. Due to their best quality, most of our architects want to install MechoShade products on their projects.
Do you need the Help of a Professional Window Service?
Whenever you need the help of a professional treatment service in Marble Falls, TX, Eastcreek Designs, L.L.C. is here for you. We have the expertise to serve both residential and commercial clients who require treatments. Our staff is certified professionals with years of experience in our Dripping Springs facility. At Eastcreek Designs, L.L.C., we ensure nothing but client certification. Our professionals can do so much for your home or place of business at a friendly price. We offer the following services:
Complete media-room installations
High-efficiency treatments
Custom draperies and valances
Beautiful shutters
Child-friendly blinds with no cords
Motorized window coverings
Eco-friendly and recycled materials for treatment
Healthy treatments that are low-allergen, all-natural materials, and odor-free
High-durability and low-maintenance treatments
Treatment FAQs
Eastcreek Designs, L.L.C. is the leading treatment solution that you can trust. We have access to the best pricing that is way below what you pay in the Big Box. This makes our services much affordable. Our facility is also the most preferred dealer for MechoShade in Austin when it comes to special pricing. Looking at our qualifications, we are HUB certified, with installers certified by the manufacturer. Our free consultation lets you know exactly what you are getting. Just call us today and inquire about what you need. Our contact number is (512) 858-2858, for residential and (512) 799-4225 for commercial. You can also use our online form to contact us.
Do you offer consultations?
Yes. We offer a free consultation regardless of your project. Once you contact us, the first thing would be to quickly schedule a visit to your location and give you a free consultation based on your unique space needs. We discuss your needs, preferences, and budget and create a plan based on your budget during the session.
How will I know what style will work best in my space?
Well. We understand that every client has their concerns. This is why we begin by determining how to appropriately approach your situation to meet your tastes. No matter what your requirement is whether you lean toward traditional or contemporary, we know how to choose the right combination of products and develop the right solution for you — with your consultation of course.
Do you have Child-Safe treatment options?
Yes, we do. Our team of experts pays attention to create not only a durable environment but also safe for children. So, if you need treatments for an elementary school, a pediatrician's office, a home, or any other place where children spend time, reach us. We will discuss with you the best options that are safe for children.